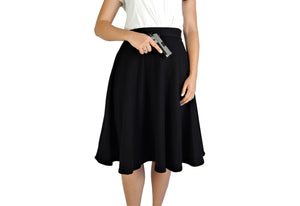 Welcome to Alive Designs by Renate
Our mission is to empower women by providing a comfortable, safe, and discreet way to holster a concealed firearm. We believe that women shouldn't have to expose themselves to an attacker in order to draw their weapon, nor should they be forced to trade comfort for safety.
Each of our Liberty skirts are outfitted with two pocket holsters, allowing for ambidextrous firearm concealment. As an added bonus, the unused holster serves as a deep pocket, allowing you to carry additional magazines, or anything else!
We have now expanded our selection of holsters to include purses!